Join the NJ Green Ament Action App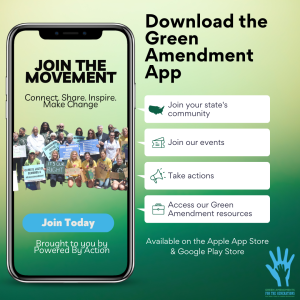 Green Amendments For The Generations has a new white label app that you can join to be up to date on all of the hot news and action opportunities.  Be sure to join the New Jersey Green Amendment Movement page.  You can also join the national page if you want to see what other states are doing. But to be up to speed on New Jersey it is important you join the New Jersey community.
You can download the app to your phone from the app store by typing in Green Amendments FTG
Or you can join on your computer via the web by going to this link.
However you join, this will be the best place to stay up to date and engage.
Be sure when you sign up to set the email/push notifications to suit your life style, turn them on, turn them off or limit them.  It's easy and will ensure the best experience.
URGENT CALL TO ACTION!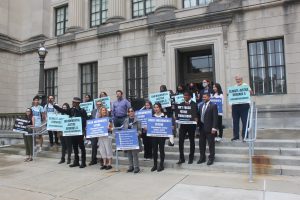 The New Jersey Green Amendment continues to be denied a hearing by the NJ Assembly and Senate leadership.  And so our actions continue to focus on spreading the word and calling on leadership to give the people an opportunity to speak and be heard.  Please help us spread the word.
TAKE ACTION TODAY — do any combo of the following and get others to do the same!
Call legislators

You can find your 3 legislators' numbers

here

(leave a voicemail if they don't answer) and tell them you want your right to clean water & air (ACR72/SCR15) be granted a hearing before the end of 2022! 

Make your efforts more impactful, call the 2 legislators who direct powers to grant a hearing: Assembly Speaker Coughlin & Senate President Scutari
Call legislative champions who have powerful influence if they speak up: Assembly members: McKeon, Benson, Kennedy & Stanley; and Senators: Greenstein, Zwicker, Ruiz & Cunningham

.

And thank Senator Smith for taking the steps to secure a hearing this year!

Get active on social media using our Social Action Toolkit
Email your legislators with this automatic sender link to urge a hearing in 2022 on your right to clean water & air.
Write a Letter to the Editor
A letter to the editor can let your community know what the NJ Green Amendment is and how it can help your community and environment.
You can use our online portal to help you get your letter to the news outlets serving your community.  It's easy. Just a few clicks, share your thoughts, click again and you will have submitted your letter to the news outlets in your area.
Click here: to get to our user-friendly letter to the editor portal
When writing your letter, consider tying in a local issue or recent article and feel free to use any of the information provided on the resources tab of this website.
Once your article is published, be sure to tag us share it with us on social media so we can help raise up your letter and leadership by sharing it with the world.
Sign Any of the NJ Sector Letters!
Sector Letters are a powerful way to demand the attention of your legislators, create solidarity within different facets of communities, and to organize for the Green Amendment. 
Sign Our Petition
Sign our petition if you support advancing a New Jersey Green Amendment and join our NJ Community Google Group.
When you sign the petition, you will help us demonstrate the outpouring of support, and we will add you to our active google group so you can stay up-to-date and connected with ongoing activities and opportunities to engage.
Sign on your Organization
If you are a representative of an organization in NJ that is supportive of advancing a NJ Green Amendment and authorized to sign for your organization, then sign your organization here and encourage support from your members.
Spread the Word on Social Media
Help us spread the word about the NJ Green Amendment on Social Media! Let your friends and family know what a Green Amendment is and how it can help your community and environment. Share the petition link or action letter. Or tag your legislators and let the know why a NJ Green Amendment is important to you. Be sure to use #NJGreenAmendment #GreenAmendment or #GreenAmendments4Justice.
Better yet, use our NJ Social Action Toolkit.
Follow GAFTG on Facebook, Twitter, and Instagram to easily share our educational posts and stay up to date.
Encourage your Municipality
Encourage your municipality or county freeholders to pass a resolution in support of the Green Amendment.
You can find a template for resolution language here and an outreach flyer that you can use to help encourage your municipal leaders or county freeholders to pass a resolution in support. Be sure your officials send a copy of the passed resolution to their state Assembly and Senate representatives and send a copy to Green Amendments For The Generations (925 Canal St, suite 3701, Bristol, PA 19007, or email to gaftg@forthegenerations.org so we can keep track of the building support. And if you would like Maya van Rossum, GAFTG Founder and author of the book The Green Amendment to come speak to your targeted board of officials about the benefits of a NJ Green Amendment we can arrange that too.
Make a Phone Call!
Call Your Legislators to Support a NJ Green Amendment!
Call your representatives and ask them to sponsor ACR80/SCR30 if they haven't already, and to be sure to vote for its passage as soon as the opportunity arises. Call them now.
Write a letter
Write a letter telling your New Jersey state representative and state senator to support a Green Amendment for New Jersey.
Donate to support a Green Amendment